Ubiquiti UniFi Protect
Naast de UniFi netwerk hardware en software is er de UniFi Protect product lijn. Een camerabewakings systeem geschikt voor thuis of op de zaak met eenvoudige installatie en uitbreidings mogelijkheden. Vaak is het probleem met veel camera systemen dat het ontzettend duur is in de aanschaf, dan komen er nog licentie kosten bij enz. Met het UniFi Protect systeem komt hier verandering in.
Met de eenvoudige en veilige camera systemen van UniFi Protect bieden wij de mogelijkheid het huis of het bedrijf zelf te monitoren, wanneer men wilt en op elk moment van de dag. Uiteraard kunnen de beelden ook worden bekeken met mobiele apparaten zoals smartphone of tablet en is er direct een actueel beeld live te zien van de omgeving.
Dankzij een duurzame behuizing, zijn de UniFi Video Camera's ontworpen voor gebruik binnenshuis of buitenshuis.
Een aantal voordelen van UniFi Protect:
Na de aanschaf geen extra licentie kosten!
24/7 beeld en/of geluid in en rondom het huis / pand
Beelden terug kijken wanneer men wilt, ook via mobiel
De keuze tussen constante opname of bij beweging
Push notificaties van beweging en/of opname op Mobiel of via e-mail
Live alle camera's bekijken op afstand, overal ter wereld
Systeem is eenvoudig uit te breiden tot meerdere camera's
IR Led optie voor de camera's voor nachtzicht
Beelden die opgeslagen zijn kunnen zowel lokaal als in de cloud worden opgeslagen
Geen super dure licentie kosten of dure hardware om HD beeld te krijgen
Ondersteuning loopt via TechConnect
UNVR
Ideaal voor als je net even iets meer op wilt slaan, met de UNVR (UniFi Network Video Recorder) kun je 4 schijven gebruiken om in een RAID opstelling al je camera beelden op te slaan en te bekijken, waar je ook bent.
Goede kwaliteit, met allerlei opties
De G3 en G4 series van UniFi hebben mogelijkheden voor nachtvisie, binnen en buiten, optische zoom, en 2K of 4K resolutie. De camera's worden aangesloten op een UDM Pro Router, Cloudkey G2 Plus of UNVR (UniFi Network Video Recorder).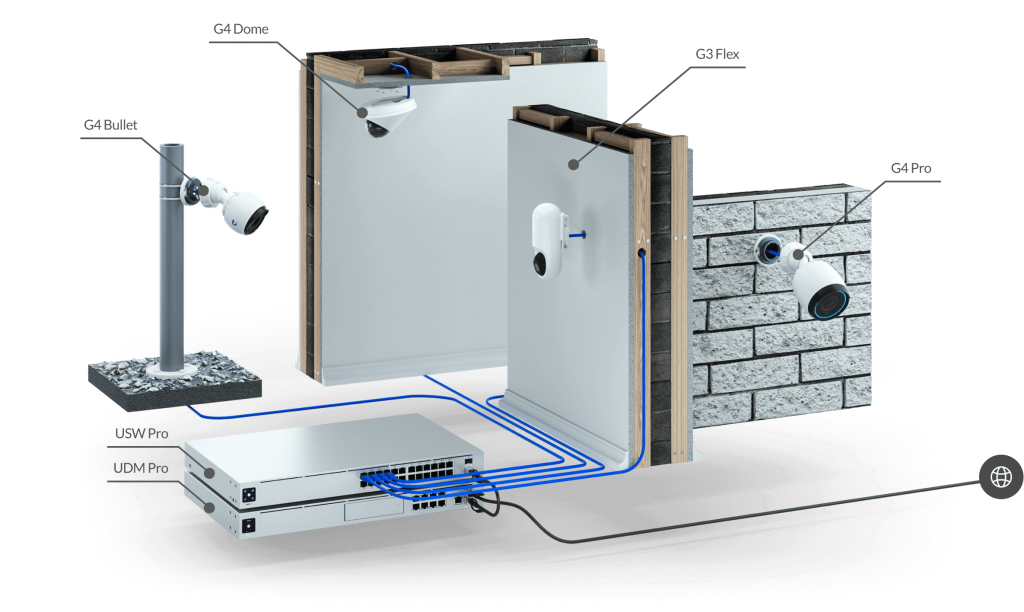 UniFi Protect
Meer informatie? Neem dan vrijblijvend contact met ons op en het word geregeld.