Vanaf heden zijn er een aantal wijzigingen die plaats hebben gevonden bij Ziggo (Zakelijk) mbt Digitale TV Kanalen.
Kabel TV: Standaard krijgt iedere klant 30 zenders (waarvan 4 in HD), daarboven kan men kiezen voor:
Play Start (CI+ Module of Horizonbox) en 70+ zenders (29 in HD) inclusief TV Gemist (via CI+ modules en/of Horizonbox) en Ziggo GO.
Play Compleet (Horizonbox) met 70+ zenders (29 in HD) inclusief TV Gemist en Replay TV, Ziggo GO en Ziggo Movies en Series (voorheen MyPrime).
Naast de extra zenders zoals Film1, Sport Totaal, Fox Sports, Videoland, Erotiek, Gay Lifestyle etc. is er vanaf heden het nieuwe Ziggo Movies & Series (XL) bij gekomen. De verschillen hieronder:
Ziggo Movies & Series voor 5,74 ex btw per maand: Vele films en complete seizoenen van topseries in alle genres kijk je met Movies & Series, het film- en seriepakket. Je kunt niet alleen genieten op je tv, maar ook op je tablet en smartphone. Je kijkt wat je wilt, wanneer je maar wilt. Onbeperkt. Ook zitten hier nieuwe series van ABC Studios bij, zoals Grey's Anatomy, Lost, Marvel's Agents of S.H.I.E.L.D. en nog veel meer.
Ziggo Movies & Series XL voor 9,88 ex btw per maand (Voorheen Royaal TV + MyPrime + HBO): Wil je exclusieve series van HBO als Game of Thrones? Gemakkelijk onbeperkt films en series kijken, of ben je op zoek naar meer tv-zenders? Movies & Series XL is het meest complete tv-pakket van Ziggo. Je krijgt toegang tot de mooiste films, series en tv-zenders, waaronder de exclusieve films en series van HBO en natuurlijk alles wat ook bij de normale Movies & Series zit. Naast de exclusieve series van HBO krijg je ook nog eens toegang tot meer dan 50 extra zenders zoals E! Entertainment en Discovery World. Vanaf 1 januari zijn de HBO-series en films beschikbaar. Ondertussen kijk je al wel naar de andere films, series en zenders.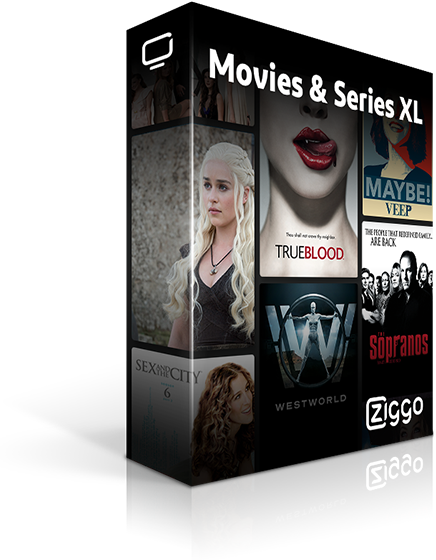 Alle extra zender pakketten zijn per maand te wijzigen en opzegbaar.
Op dit moment is de eerste maand gratis voor beide Movies & Series pakketten.
Alle Films en Series, ook van HBO, zijn straks te bekijken via Ziggo GO (on Demand via CI+ of Horizonbox) en via de apps van Ziggo GO inclusief Airplay en Cast support.
Bestellen is heel eenvoudig, ga naar ziggo.nl en login met het Mijn Ziggo account, klik op Producten en Beheer Televisiediensten. Hier kun je extra pakketten aan en uit zetten. Of bel gewoon even met de klanten service (0800-0620).
Klik hier voor meer informatie over alle extra zender pakketten.