De UniFi UXG (Next Generation Gateway) Pro is vanaf nu verkrijgbaar. Het apparaat is bedoelt als opvolger van de USG Pro en is een router, gateway en firewall met 1Gb RJ45 en 10Gb/s SFP+ poorten voor zowel LAN als WAN. Een netwerk controller is nodig om deze te kunnen gebruiken, zoals een Cloudkey G2 Plus of een van onze UniFi abonnementen. De UXG Pro is gemaakt voor midden en grotere bedrijven die behoefte hebben aan een dedicated router met hoge snelheden, 10Gb/s verbindingen en IPS layered firewall mogelijkheden. Deze ondersteunt routing tot 8Gb/s en met Threat protection tot 3.5Gb/s. VPN verbindingen werken op ca 800Mb/s.
Features:
1.7 GHz quad-core processor
(2) WAN poorten (GbE RJ45 en 10G SFP+) met failover support
(2) LAN poorten (GbE RJ45 en 10G SFP+)
Enterprise-class DPI, IPS/IDS, layered firewall configuration
Power redundancy icm UniFi Smartpower RPS (los verkocht)
1U-sized, rack-mountable device
Klanten die een goede router oplossing voor thuis of klein zakelijk willen, kunnen ook kiezen voor de UniFi Dream Machine (Pro of SE). Dit is een all in one oplossing waar ook bijv UniFi Protect (camera's) mee werken en een netwerk controller ingebouwd is (geen multi site ondersteuning).
Let op; door een enorm tekort aan chips zijn veel van de UniFi apparaten met momenten moeilijk verkrijgbaar, het kan dus zijn dat deze beperkt leverbaar zijn tot eind Mei 2022.
Meer informatie: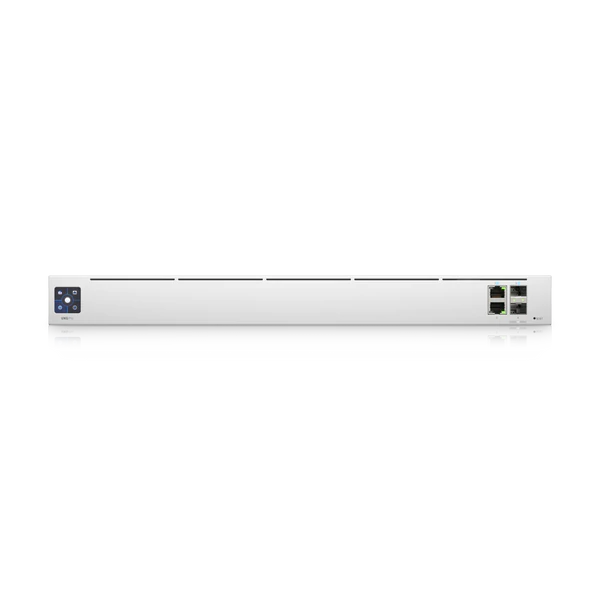 UniFi Next-Generation Gateway Pro