Wil je tv kijken, maar dan zonder een extra kastje, dan is NLZiet misschien wat voor jou. Voor 7,95 per maand ben je helemaal voorzien.
Met een App only abonnement kijk je online via je tablet, pc, telefoon of smart tv. Je kan ook kijken met je 'niet smart tv' door deze te koppelen aan bijvoorbeeld een Chromecast, AppleTV of een Nvidia Shield.
Heb je genoeg aan de Nederlandse zenders van de NPO, RTL, SBS en alle regionale zenders, dan is NLZIET misschien wel de oplossing voor jou. TechConnect biedt deze dienst zelf niet aan, deze is apart verkrijgbaar via de site van NLZIET.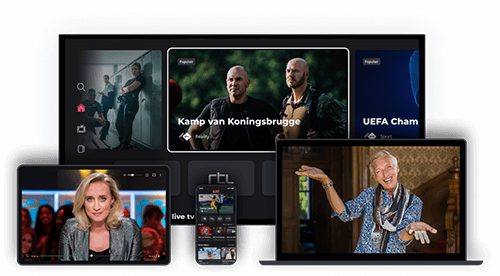 Met NLZIET kijk je tv waar en wanneer het jou uitkomt.
Kijk series, films en documentaires wanneer jij wilt. Altijd en overal de beste drama, reality, actualiteit, talkshows en amusement van de Nederlandse tv!
Kijk live en terug naar 36 Nederlandse tv-zenders.
Met live, replay en gids biedt
NLZIET
je een complete tv-kijkervaring en heb je geen traditioneel tv-abonnement meer nodig.
Onbeperkt toegang tot alle on-demand tv van Nederland.
NLZIET
is een samenwerking van de NPO, RTL, en KIJK, en biedt ook alle regiokanalen aan. Daardoor kun je de meeste programma's van de Nederlandse tv tot 1 jaar lang terugkijken. Gezamenlijk goed voor 3.068.280 minuten kijkplezier.
De app van NLZiet is beschikbaar voor AndroidTV (Sony, Philips etc), AppleTV, FireTV, Samsung en LG en werkt natuurlijk ook met een chromecast. Ook kun je kijken via je computer, tablet of iPhone en Android telefoon.
NLZiet is maandelijks opzegbaar en is binnen een aantal minuten meteen beschikbaar na registratie.
Hoe werkt NLZIET?
Allereerst maak je een account aan via www.nlziet.nl. Nadat je een NLZIET abonnement hebt aangemaakt en de app geïnstalleerd hebt, ben je klaar om te kijken. Je kunt nu meer dan 150.000 programma's, series, films en documentaires gaan kijken. Deze items kun je vinden onder de kopjes 'aanbevolen', 'vooruitkijken', 'films', 'series' en 'meest bekeken.' Zie je je favoriete programma zo snel niet staan? Je kunt handig zoeken in de app door in het kopje tv-kijken te kijken of typ de programmanaam in de zoekbalk om het direct te vinden. Ook kun je in de app van NLZIET programma's favoriet maken. Zo kun je je favoriete programma snel terugvinden én krijg je een melding als er een nieuwe aflevering klaarstaat.
Download de app van NLZIET via Play Store of App Store en stream direct naar jouw apparaat!
Voordelen van NLZIET op een rij:
NLZIET is de enige dienst die zowel publieke als commerciële omroepen aanbiedt voor een vast bedrag per maand
Je kunt de meeste programma's reclamevrij terugkijken
Je kunt sommige programma's vooruitkijken
Je bepaalt zelf hoe, waar en wanneer je tv-kijkt
Je hebt geen kastjes en kabels meer nodig