Adverteerders kunnen in iPhone-apps gebruik maken van interesses van gebruikers. Hiervoor word de Identifier For Advertisers (IDFA), een uniek nummer gekoppeld aan jouw toestel gebruikt.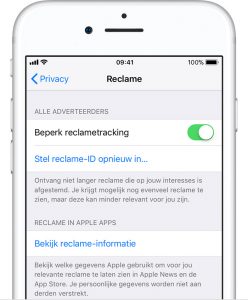 Bedrijven en andere organisaties, waaronder ook Facebook weten vaak meer dan je denkt. Er zijn advertentie netwerken die advertenties in apps tonen en proberen om zoveel mogelijk onderlinge connecties te maken, om advertenties af te stemmen op de gebruiker. Dat heeft natuurlijk voor en nadelen.
Bedrijven zoals Facebook en Google die  alles van je weten, niet iedereen is daar even blij mee. Daarom kun je op je i-device gedeeltelijk tracking uitschakelen
Ga naar Instellingen > Privacy.
Blader omlaag naar de optie Reclame.
Zet het knopje aan bij Beperk Reclametracking.
Na het instellen hiervan krijg je wel nog reclame te zien maar ze zijn niet langer afgestemd op jouw situatie.
Popups en andere rare dingen op je Mac
Daarnaast gebeurt het tegenwoordig steeds vaker dat men advertenties of rare links krijgt te zien in Safari of Chrome op een Mac computer. Ja, ook een Mac is tegenwoordig doelwit van malware, spyware en andere taferelen. In principe is het daarom aan te raden om een virusscanner of iets dergelijks ook op een Mac computer te gebruiken.
Voor (zakelijke) klanten van Ziggo is F-Secure beschikbaar. Deze kun je installeren via Mijn Ziggo (onder het kopje Internet). Zit je niet bij Ziggo of wil je iets anders gebruiken dan raden we Bitdefender aan. Deze scant je hele computer en is in een basis versie gratis te verkrijgen via de Mac Appstore. Het kan nooit kwaad om een keer een scan uit te voeren op je computer om te kijken of er mogelijk iets 'verdachts' aanwezig is.