Bij de installatie van een UniFi Dream Machine (Pro/SE) is de eerste gebruiker die wordt aangemaakt of inlogt tijdens de installatie automatisch de eigenaar (owner).
Daarna kun je via het Settings > Users menu andere gebruikers toevoegen (met lokale toegang of via een Ubiquiti account) en deze kun je dan ook Super admin, Limited of Gebruikers rechten geven.
Het probleem daarbij is alleen dat als je een bepaalde gebruiker eenmaal als eigenaar (owner dus) erin hebt staan, dat alleen die login alles kan zien. Bepaalde instellingen (zoals bij Protect bij het aan of uit zetten van persoons detectie) kan alleen gedaan worden door de eigenaar, niet een 'normale' admin.
Bij de installatie van Dream Machines van Ubiquiti zorgen wij er daarom altijd voor dat we de klant zelf de eigenaar (owner) maken van het apparaat en voegen daarna iemand van TechConnect toe als super admin, indien gewenst, om te helpen met de configuratie en monitoring.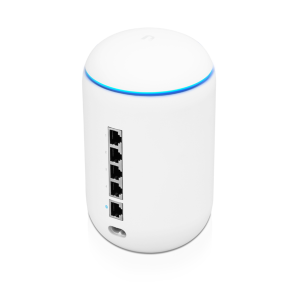 Toch kan het wel eens gebeuren dat iemand een verkeerd account aan heeft gemaakt of simpelweg wilt kunnen wisselen van eigenaar zonder alle data te verliezen.
Dat kan, maar is niet super eenvoudig. Je dient hiervoor lokaal aanwezig te zijn! Hieronder in het kort wat je kunt doen om dus de owner van de Dream Machine te wijzigen:
Zorg eerst voor een backup van je dream machine (Settings > Advanced > Backup configuration > Download)
Ga dan in het hoofdmenu van de Dream Machine naar Users en klik op de huidige owner
Kies voor het tabblad PROFILE en klik daaronder op 'Add Local Credentials' maak nu een lokale login en wachtwoord aan (deze is dan gekoppeld aan het eigenaar account)
Sla dit op en verwijder daarna alle overige gebruikers, behalve natuurlijk het account dat owner is
Ga terug naar het Dream Machine Settings menu en klik op Advanced > "Remote Access" en zit dit uit (disable)
Log nu in op je dream machine via het lokale ip (vaak is dat 192.168.1.1)
Zet Remote access weer aan (Settings > Advanced > Remote Access) en log nu in met het account dat je als nieuwe eigenaar 'owner' wilt hebben
Je bent klaar, voeg daarna eventueel nieuwe gebruikers weer toe